Intersec Expo 2020 Review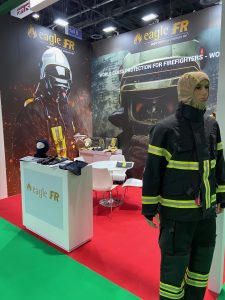 Back from Dubai and Intersec Expo 2020 and happy to report that the show was a success, both from an Eagle point of view and in general.
The exhibition itself was well managed and attracted a huge audience from around the world, as ever. We felt it was busier this year than last year and that was reflected in the number of people who paid our stand a visit too.
It was, of course, fantastic to see some familiar faces around the show and even more exciting to meet new people. We had a lot of great discussions around our firefighter gear, in particular our lightweight fire suits, as well as our new P-BLOK particle blocking hoods.
We are already following up with all the contacts we made and look forward to talking to everyone soon.
Already in the pipeline are our next exhibitions, which we'll be providing information on soon. In the meantime, if you require any firefighter equipment or FR and ARC flash industrial protective clothing, please get in touch.