Introducing P-BLOK – Particle Blocking Technology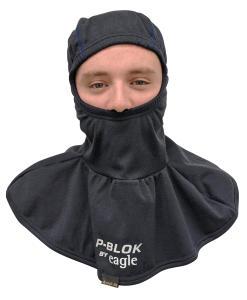 Designed with input from fire fighters, Eagle FR are proud to introduce our particle blocking P-BLOK technology, available now in selected fire hoods from our range.
Independently tested by UL, gaining 99.9% particle block before and after washing. Up to 50% lighter than competitor models. The P-BLOK system from Eagle is proven best in class.
With fire fighters 9% more likely than the general public to be diagnosed with cancer, P-BLOK is designed to protect the wearer from absorbing dangerous smoke borne particles through the neck and jawline areas.
Our P-BLOK hoods block 99.9% of particles – before and after washing – confirmed by UL independent testing.


Want to know more? Learn all about P-BLOK here.